MA Chaplaincy Studies
At St Padarn's, you can study for the following Durham University validated awards in Chaplaincy:
Postgraduate Certificate (PG Cert) 3 modules, 1 year
Postgraduate Diploma (PG Dip) 6 modules, 2 years
MA (6 modules and a 15,000-word dissertation), 3 years
St Padarn's is accredited to support students seeking UK Board of Healthcare Chaplaincy (UKBHC) registration alongside any of these awards.
Our programme, developed in collaboration with our professional partners, will give you the knowledge, skills, and confidence to exercise leadership within your chaplaincy specialism. Studying at St Padarn's will expand your thinking and broaden your awareness of both the theoretical and practical aspects of your work. You will undertake assessments designed to enhance your professional effectiveness.
At St Padarn's, we offer learning focused on your specialism. Most of your modules will be studied with peers working in the same or a similar sphere. Your learning will also be enriched by studying alongside chaplains serving in other sectors, for example, health, military, prison, education, and sport. We are proud to have held the national Ministry of Defence contract since 1999 and work with many healthcare organisations across the UK. St Padarn's is accredited by the UK Board of Healthcare Chaplaincy as an approved training provider for students seeking professional registration.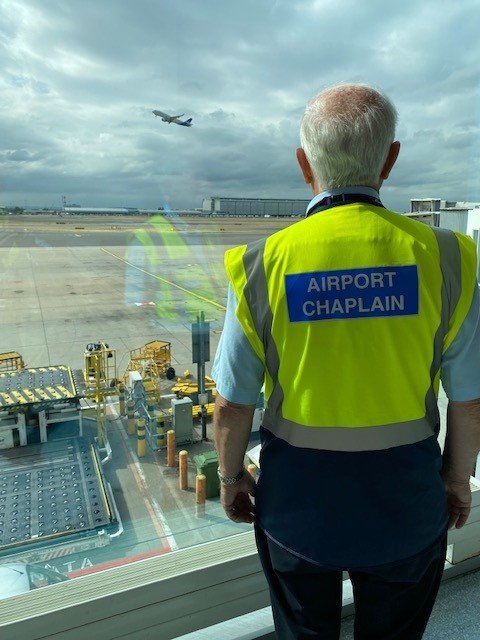 Given our 23 years' experience at equipping chaplains from across the UK and beyond, there are plenty of good reasons to join us at St Padarn's. The St Padarn's Chaplaincy Studies programme focuses on providing advanced continuing professional development for chaplains but may be suitable for others.
Fees
| Qualification | Year One | Year Two | Year Three |
| --- | --- | --- | --- |
| PGCert | £3640 | N/A | N/A |
| PGDip | £3640 | £3640 | N/A |
| MA | £3640 | £3640 | £1040 |
Application Requirements and Process
The usual entry criteria are a 2:1 degree with two years' experience of chaplaincy or a 2:2 degree with substantial professional experience. If you do not meet these criteria, please get in touch to discuss your available options.
The closing date for applications is the end of July.
See more information regarding Postgraduate Study at St Padarn's here
See more information about St Padarn's Policies here
Hear what our students have to say
about the course: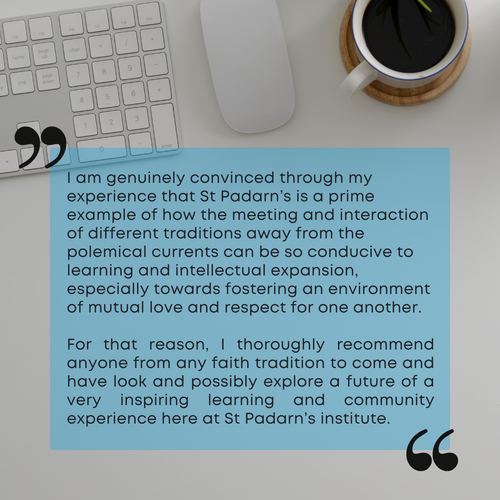 Caroline John - Healthcare Chaplaincy
Sarah Burke - Healthcare Education
Dominic Whitting - Healthcare Chaplain
Lucyann Ashdown - Healthcare Chaplain
Andrew Thompson - Military Chaplain
For more information please contact:
Postgraduate Co-ordinator
02920 838009