Using scallop shells to talk about pilgrimage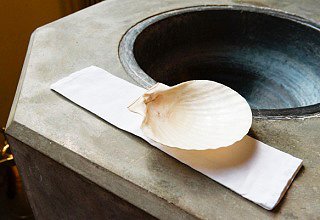 We use scallop shells to help explore journey symbolism within the baptism service.
We use a scallop shell for the baptism – a different shell for each child to be baptised. Using a gold pen, we write the name of the child, the date and location of the baptism. I usually ask one of the guest's children to come out and hold the shell at the front, and we talk about the symbolism of being on a pilgrimage, a spiritual journey, how we are all on a spiritual journey, and how pilgrims often used to carry a scallop shell with them on their pilgrimages.
The child then leads us to the font, carrying the scallop shell, as we prepare to mark this moment in the spiritual journey of those being baptised. We then use the scallop shell to pour the water on the child's head as they are baptised, and then give the scallop shell to the family as a keepsake. (If there is more than one child being baptised, then there is a different shell for each child… taking care to ensure the right shell is used with each child for the baptism!).
Rachel Noel