Prayer Spaces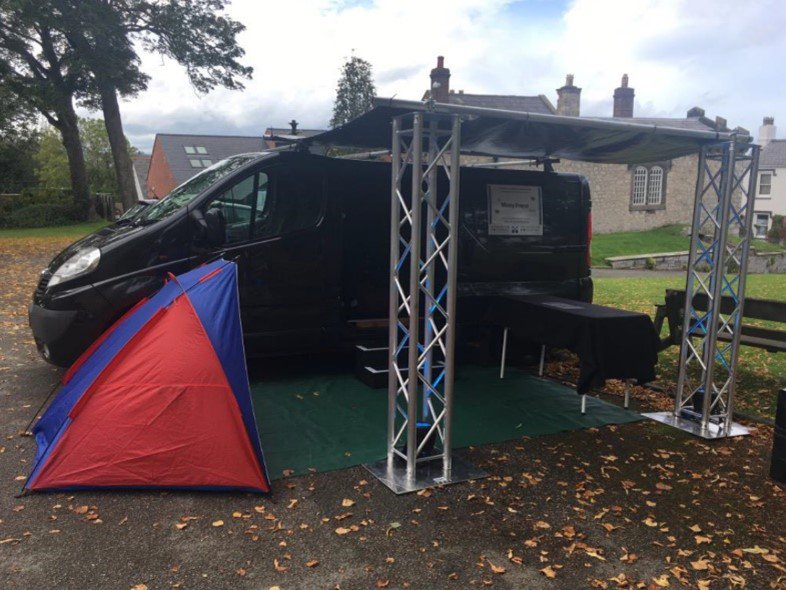 The third of our Good News Stories looks at an exciting initiative in St Asaph
Jonathan Andrews discusses his experience of Prayer Spaces and how they can happen anywhere. Even in a school car park.
In 2017, I assisted at a prayer spaces day at a school in Llandaff. The experience was invaluable to me and I had never seen such a positive impact of interactive prayer on young people. Since then I have become very passionate about interactive prayer and have started developing my own creative prayer stations. I have found that they are a really useful tool to help young people and adults connect with God. Since starting work as a youth and children's chaplain for the Church in Wales; something I have wanted to initiate is establishing prayer space days in the local schools. The staff have been very keen for this to happen however space is a premium and thus has restricted how much can be achieved. I was then made aware of the Eden bus project which is a great resource for urban environments however it would have limitations around smaller rural villages. I felt God put on my heart the idea of an interactive prayer van which can visit rural schools creating a safe space for children to encounter God. A bible verse that was significant was Isaiah chapter 54 verse 2 "Enlarge the site of your tent, and let the curtains of your habitations be stretched out; do not hold back; lengthen your cords and strengthen your stakes." I felt that God was saying that if there is no room in the schools to host a prayer day, implement it on the playground.
The prayer van has already been experienced by hundreds of children in their primary schools. Craft activities, sensory experiences and discussion combine to enable children to encounter God as they interact with the various prayer spaces. The feedback is always positive from both children and staff all commenting on the quality of the product. My favourite story involves a child with ASD who entered the van with her one-to-one teaching assistant (who was very sceptical about her engaging), however her feedback afterwards was she had never seen the child so calm.