Revd Chris Burr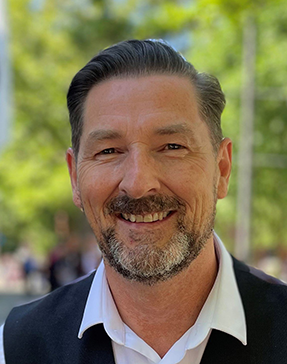 I was born in Tredegar and have spent all of my life in and around South Wales. I wasn't from a faith background, but became a Christian in my early teens and for as long as I can remember felt a calling to full time ministry.
Having worked in the in the civil service for nearly 10 years, primarily as a National Insurance Inspector and then as a Training and Education Manager, by my late 20s I felt God's calling more strongly than ever and I set that career aside to begin training for the priesthood at what was then St Michael's College, Llandaff.
I graduated with a BTh in 2001, and served as a curate in Llantrisant before becoming Priest in Charge of a parish in Pontypridd in 2004. From there I moved to become Vicar of Lisvane in the North of Cardiff in 2010, before taking up my current post at St Padarn's at the beginning of 2019.
I have a keen interest in meteorology and an ever-increasing passion for travel. I have developed strong links with a community in Mbale, Eastern Uganda, and also organise and lead regular pilgrimages to the Holy Land. To relax, I love a good read with a particular interest in crime fiction (especially anything PD James!), or an evening at the theatre, and musical theatre especially.
I am married to Helen, and together we have four children, and a rescue dog called Honey.